VICINITY workshop on "VICINITY eHealth Use Case definition"
Thursday, September 1, 2016 (All day)

to

Friday, September 2, 2016 (All day)
Thessaloniki, Greece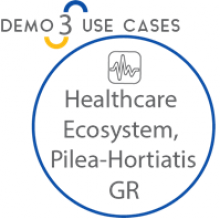 The Municipality of Pilea Hortiatis together with CERTH organised a two-days workshop in Thessaloniki, in order to bring together municipal health services and technical stuff, in order to properly address the challenges of the VICINITY eHealth Use Case demonstration.
The first day of the workshop was organised at the Municipality building of Pilea Hortiatis, which will be hosting the demonstration of the eHealth use cases for the Greek pilot. People from the assisted living services and social care personnel, currently operating the eHealth and eHealth at home programs operated by the municipality and offered to elder community people, participated in the workshop. This gave the opportunity for a thorough analysis of the particular requirements and problems anticipated so far, together with interested lessons learned that should be taken into account. The scope of the workshop was to find ways to extend and broaden the scope of the use cases towards providing cross-domain and multi-functional services to the municipal citizens, further revealing the potential and added-value services that can be brought by the VICNITY infrastructure.
During the second day of the workshop the consortium partners had the opportunity to visit CERTH premises and the Smart House demo location, which will allow the demonstration and testing of the VICINITY components and infrastructure during the early development phase of the project. A set of useful and challenging cross-domain value-added services where identified and drafted, to allow the demonstration of the VICNITY concept within real-life environment.