VICINITY Test Labs established
VICINITY Test Labs established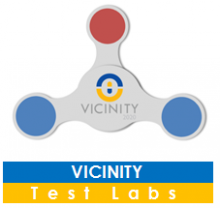 VICINITY Test Labs will support the activities of the prototyping and testing of the early VICINITY infrastructure available, currently consisting of: AAU Microgrid IoT Laboratory in Denmark, CERTH Test Laboratory in Greece, ATOS IoE Laboratory in Spain.
More details per each of the Test Lab facilities are presented below:
Test Lab: AAU Microgrid IoT Laboratory
AAU Microgrid (MG) IoT Laboratory is divided into four parts: a living room, a kitchen, a control room and a low voltage direct current office. 2 kW PV panels and a 2 kW wind turbine are installed on the roof of the laboratory. Electrical and hot water based floor heating systems are going to be equipped and tested concerning the heat efficiency.
Electronic appliances (laptops, cellphones, LED lights, home entertainment systems and white goods) are already placed in the living area and kitchen area. Smart power outlets are tested through a REST API and proxy server. A Matlab-based interface will be developed in order to smoothly integrate into MG energy management systems (EMS).
Once smart devices start to interact with consumers' daily routine, the smart devices and EMS can detect their presence, learn their habits, and act accordingly to optimize the energy consumed in the MG.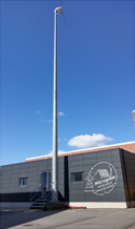 Test Lab: CERTH Test Laboratory
CERTH/ITI Test lab infrastructure will support the integration of the first VICINITY Agent/Adapter prototype, by providing 3 different available IoT platforms/solutions for thorough testing and experimentation. In particular:
Linksmart Middleware solution has already been integrated at CERTH/ITI building, and allow the integration of many different types of IoT sensors and building assets, such as monitoring and control of HVAC and lights, sensors for temperature, humidity, luminance, CO2, appliances energy meters, etc.

SiteWhere (Open Platform for IoT) is available connected to a number of SmartPlugs to allow monitoring and control of different types of office and home equipment.

Programmable CISCO Router (Cisco 829) for IoT applications, running a lightweight version of Linux, is connected to proprietary hardware developed by CERTH, comprising of people counters sensors developed and one/three phase smart energy meters.
Test Lab: ATOS IoE Laboratory
The Internet of Everything Laboratory has installed an air pollutant measuring station at ATOS-Spain facilities to obtain continuous measurements of the main air pollutants that affect to the health of Madrid citizens (i.e. NO2, NO, CO, O3 and particulate matter). The station offers an API interface to obtain real sensor data information and allows its remotely configuration.
Besides contribute to the IoE lab permanently sensor data source catalogue and adding this new station to the network already present in the city of Madrid, the obtained data will help to create temporary and spatial models of pollutants predictions, offering to citizens information on present and future pollution episodes and how to avoid them based on users healthy profiles.