VICINITY project at "Internet of Things in the Smart Home" workshop organised by ETSI
Monday, March 21, 2016 (All day)

to

Tuesday, March 22, 2016 (All day)
Sophia Antipolis, France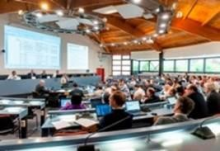 The European Telecommunications Standards Institute (ETSI) is one of the three European Standards Organisations (ESOs) and holds workshops of this kind every few weeks. ETSI has over 700 members including industry, policy makers and regulators.
Climate Associated Ltd. consortium partner made the presentation "An Open Virtual Neighbourhood Network to connect Intelligent Buildings and Smart Objects" introducing the VICINITY project, its architecture and pilots, and its expected role in the standardisation of IoT, over a large audience of over 120 people, including representatives from the EC, service providers, equipment vendors, administrations, policy makers and regulators. Very positive feedback was received and, in addition, two key stakeholders from Switzerland offered to be actively involved in the VICINITY stakeholder requirements capture process.
The main feedback for VICINITY received during the workshop can be outlined in the following:
There are too many standards and different initiatives today which don't fit together. The best projects will focus on integrating different initiatives.
Security (especially the potential for hacking) and privacy are major concerns, and if VICINITY can do anything towards addressing these it will receive a lot of credit.
There are insufficient use cases yet to persuade people to buy connected devices for their homes. Although the use case that received the most interest so far is Smart Energy (with complaints about the dumbness of smart meters) it was not the only use case mentioned or promoted. For example, smart lighting, e.g. Philips HUE, is a typical up-and- coming use case.
Battery-free devices are the way forward for mass deployment of sensors. These will use energy harvesting which is now becoming a practical, deployable technique.
Ontologies are becoming increasingly important for semantic interoperability, especially SAREF and derivatives (such as SAREF4EE) for smart appliances.
There are a lot of competing technologies and protocols at the communications layer (e.g. ZigBee vs. DECT ULE) but the competing technologies at the semantic layer are not clear.
Configuration of devices must be seamless and transparent (including integration with outside activities) or the IoT in the Smart Home will always have a limited market. It must be usable by my grandparents as well as my children.
Useful Links: