VICINITY project at "EnWoT - The first International Workshop on Engineering the Web of Things", organised by researchers at Politecnico de Bari, Italy
Monday, June 5, 2017 (All day)
Rome, Italy
The goal of the EnWoT workshop is to bring the attention of researchers to the opportunities and challenges involved in engineering a web of things. Web technologies (e.g., HTML, JavaScript, Ajax, PHP, Ruby) can be used to build applications involving smart things, on the other hand well-known Web mechanisms are available to interact with and share these devices. The call for contribution for the workshop addressed architectural styles and patterns that allow real-world objects to be part of the World Wide Web which fit with the semantic discovery approach being develop within VICINITY.
UPM (Universidad Politecnica de Madrid) made a presentation about the accepted paper "Semantic Discovery in the Web of Things" introducing the VICINITY approach for semantic discovery, two of the three ontologies developed within the project (the WoT ontology and the Mappings ontology) and an example of how to use them. 
Conference Feedback
Take-aways from the workshop include:
Need to define security aspects in the ontology, there are other projects and organizations that are interested on that part of the model.
VICINITY is one of the few projects in which ontologies are being published according to the best practices and providing human readable information and examples.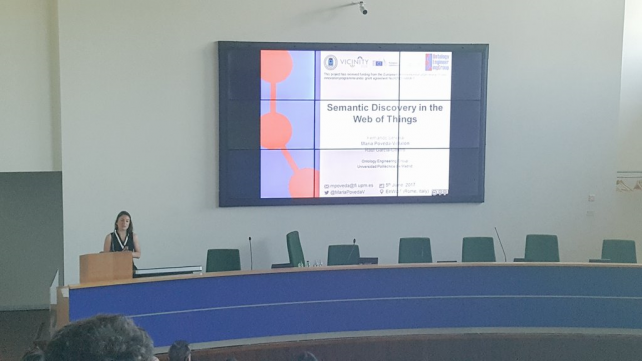 Event Program: 
Useful Links: