VICINITY project at "eHealth FORUM 2016"
Tuesday, October 25, 2016 (All day)

to

Wednesday, October 26, 2016 (All day)
Athens, Greece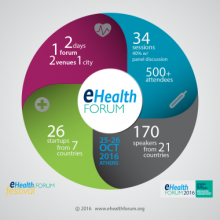 VICINITY consortium had a very active participation during the eHealth Forum 2016 event that took place in Athens, Greece. On the one hand, VICINITY project held a booth in the networking conference area, represented by CERTH, GNOMON and OTE partners, where promotional material was distributed and many interesting discussion took place on the proposed eHealth solution promoted for demonstration of assisted living in Greek elderly people homes in Greece. On the other hand, a panel titled "IOT E-HEALTH AND E-CARE SERVICES" was organized in one of the event's conference room, where VICINITY had two different speakers. In particular, Mr. Athanasios Tryferidis gave a speech titled "VICINITY H2020 PROJECT – IOT CHALLENGES IN EHEALTH AND ASSISTED LIVING", while Mr. Kostis Kaggelidis presented "ADVANCED EHEALTH SERVICES/MOBILE APPLICATIONS".
The specific event brings together stakeholders from many vertical areas of the health sector, covering from doctors and care givers, to assisted living and ICT/application providers, to municipality and institutional scale authorities and legal representatives. Therefore it was a great opportunity to received early feedback on the eHealth use case planned for the demonstration of the VICINTY concept in Greece, together with broader disseminating the concept of project in allowing an easy and intuitive way of building added-value services over a trusted and secure overlay, featuring privacy by design, which is of particular interest in particular in the health domain.
VICINITY project raised positive feedback on the way the project handles security and privacy, which are very delicate and important aspects when it comes to accessing and sharing sensitive health data and communicating with medical devices and sensors. There were further discussions on the legislation framework that is currently changing and to which VICINITY proposed architecture and pilot demonstrations need to comply.
The Open Calls was another important point of discussion, both during the panel discussion and the networking session that followed, since there where many companies and IoT technology providers who showed interest in participating in the process, to have the opportunity to get funding through the open call procedures in order to test the VICINITY platform and implement and demonstrate value-added services in the emerging eHealth ecosystem.
Useful Links:
Event Main Program, Event Full Program, Speakers