VICINITY project at "Connected Smart Cities Conference 2018" organised by OASC
Thursday, January 11, 2018 (All day)
Brussels, Belgium
The Connected Smart Cities Conference organised by OASC (Open and Agile Smart Cities) has become a must-do annual event for anyone involved in Smart Cities enabled by IoT.
This year there were sessions on:
Ecosystem Innovation: Joining Excellence and Capacity Building,
IoT-Enabled Smart Cities Market Creation: Policy Issues and Open Calls,
Energy: Interoperable Smart Homes and Grids,
Platforms for IoT and Smart Cities & Communities: Towards Next Generation Internet,
Data Protection: Securing Privacy while Enabling Innovation,
Smart Mobility,
Natural Resources: Digital Water and Beyond,
Global Standards for IoT and Smart Cities & Communities.
Keith Dickerson from Climate Associates organised and chaired the session on Energy: Interoperable Smart Homes and Grids:
Keith Dickerson (ex-ETSI Board and ITU-T SG5 Vice Chair) provided the background and motivation for Smart Energy.
Rolf Riemenschneider (DG CONNECT IoT Unit) presented the EU Vision for Smart Energy and the interoperability requirements.
Natalie Samovich (ENERCOUTIM and VICINITY) presented on IoT as an enabler for the Energy Market.
Nikolaos Kontinakis (EUROCITIES and a member of the H2020 ESPRESSO project) presented on the EUROCITIES partners/projects in the Smart Energy area. 
Maria Poveda from Technical University of Madrid also presented Standards for Semantic Interoperability in the session on Global Standards for IoT and Smart Cities & Communities. VICINITY was therefore mentioned in 3 different presentations at the conference. 
Conference Feedback
Key Issues from the Smart Energy session: 
The need to integrate a greater proportion of renewables into the power grid, especially renewable energy from distributed microgeneration from homes and businesses in Smart Cities.
The need to implement and deploy real consumer-driven demand-response mechanisms. There have been pilots but no wide-scale deployment ...and there is unlikely to be any due to the lack of end-to-end interoperability between the smart appliances and the power generators via the 'smart meter'. There is also doubt over who would benefit most from demand-response, probably not the consumer ;-(
The lack of flexibility for smaller players to enter the energy market. It's difficult for them (at least in many countries in Europe) to compete on a level playing field with the larger players and bring new innovative packages to market in the same way that Ecotricity, Good Energy and Ovo Energy have done in the UK. Clear regulatory instruments are needed to allow this.
VICINITY will help to enable all of these.
Photos: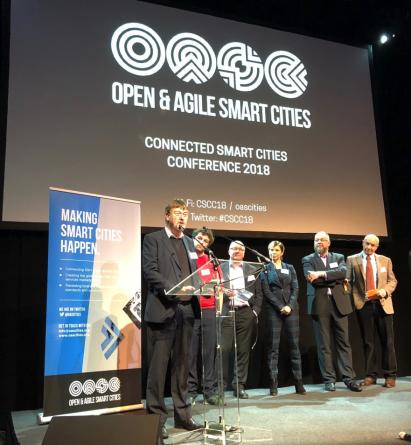 Useful Links: 
Workshop web page (including program and presentation slides): 
http://oascities.org/connected-smart-cities-conference-2018-programme/
Video of the event: