VICINITY project at "6th Smart cities conference + EXPO" organised by Net Week (netweek.gr) & Boussias Communications
Friday, March 9, 2018 (All day)
Athens, Greece
The main scope of the event was to inform the participating audience on the latest IoT development and trends, to bring expertise by renowned speakers coming from different sectors (i.e. government, municipalities, regions, industry, academia) and to trigger the brainstorming and relevant discussions on how to face the challenges of our times and achieve higher quality of life in the cities, economic development, reduction of current functional costs, job creation and sustainability via a so called "Smart Urban Development".
As smart grids could be spread over a wide range that contains public transport, water management systems, waste management systems, trade, social services, etc, the event tried to cover this range by splitting the agenda in four major topics, specifically,
Smart Governance - Smart Policies
Health & Social Care e-Services
Mobility
Sustainability
The basis for the latter is of course the proper exploitation of the capabilities offered by Cloud Computing, as well as the relevant services of data handling and analyzing, with respect to the security and privacy of the citizens.
As mentioned above, the ultimate goal of the event was to motivate the involved audience, especially the ones coming from government background, to achieve the "Smart Urban Development".
Gnomon Informatics S.A. participated in the event mainly with the actual presence of its COO, meaning Mr Kostis Kangelides, who also made a VICINITY-related presentation under the name "VICINITY - Autonomous living solutions for the elderly in the IoT era", but also with other company members. Invitations for the event were also sent to collaborating partners coming mostly from the local government sector (e.g. municipalities, regions, etc) on behalf of Gnomon Informatics S.A.
The presentation was held during the second part of the conference which focused on the "Health & Social Care e-Services" and, specifically, on the way technology could be used to improve citizens' health and quality of life in general.
The presentation contained information for the current status of the project, the consortium and also the vision of the project to provide "interoperability as a service" and to create a platform for domain-crossing, value-added services. The relevant use cases and pilots were presented as well via the use of some simple visual scenarios to assist the ease of understanding.
A Q&A session followed by the end of the presentation.
Conference Feedback
VICINITY project raised the interest in a positive way for the proposed "VICINITY virtual Neighbourhood" concept for allowing IoT interoperability in cross-domains. Increased interest was mainly shown by the participating Municipalities and Regions on how VICINITY, and especially the envisioned value-added services, could efficiently contribute to the major improvement services they currently offer or plan to offer to their citizens. Even though the discussion was mainly focused on the e-health direction, as GNOMON's orientation is towards this sector, open discussion and relevant brainstorming followed for all VICINITY use cases.
Photos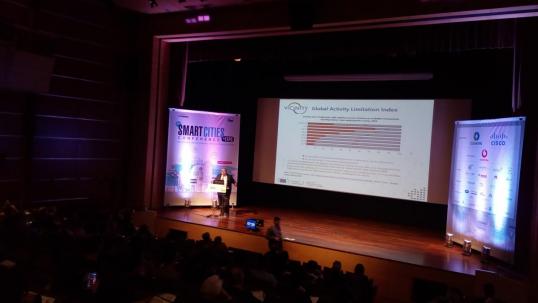 Useful Links: 
VICINITY Presentation (in greek): 
http://smartcitiesconference.gr/default.asp?pid=23&la=1&pwID=683
Netweek:
Smart Cities Conference:
http://smartcitiesconference.gr/
DAIS Centre: