VICINITY presentation at Startup Europe Week in Martim Longo, Portugal
Thursday, February 4, 2016 - 15:00
Martim Longo, Portugal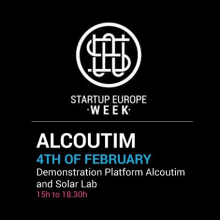 Enercoutim co-organised the Startup Europe Week at its SolarLab facility in Martim Longo Southern Portugal on the 4th of February 2016, which was attended by a mix of local and regional entrepreneurs, public officials and university representatives.
During the event, Enercoutim presented the VICINITY project and its objectives, which was received with much interest and enthusiasm by the participants. A long discussion evolved about the opportunities and challenges that IoT, sensor technologies, and new application development offers to private and public sector. It became clear during the discussion that there is significant interest in collaboration to drive new IoT enabled projects in this field.
Specific discussions were held about the use of sensor systems developed by a University of Algarve spin-off, as well as applicability to agricultural activities and municipal use cases.
Useful links: Event & agenda, startupeuropeweek.eu