The VICINITY Impact
According to Peter Sondergaard, Senior vice president at Gartner:
"...while in 2015 the combined IT and telecom market will hit nearly $4 trillion, the incremental revenue generated by the Internet of Things' suppliers is estimated to reach $309 billion per year by 2020. Half of this activity will be new start-ups and 80 percent will be in services rather than in products. The Internet of Things is a strategically important market. It will accelerate fast and will drive both revenue and cost efficiencies."
Furthermore, according to M2M.World.News surveys:
"...hundreds of multinational corporations, start-ups and SMEs in the space, IoT Nexus found that 77% of respondents saw interoperability as the biggest challenge facing the Internet of Things"
The above two public claims clearly indicates the potential impact of VICINITY concept which brings a new, user centric view on interoperability avoiding the barriers that are present in the existing interoperability solutions beyond the pure technical considerations. The reason that VICINITY will generate its potential impact is the following:
According VICINITY concept the participants can decide with whom they wish to cooperate and to which extent. Thus, each participant can set up the conditions for himself in his own maximal favour.
No central databases with sensitive data will be deployed (everything is negotiated between the peers) and therefore VICINITY preserves user's privacy by design.
To integrate, the vendors of IoT assets do not need to share their intellectual property such as specifications and source codes. They simply open gateway API and with the help of open source samples for adapter implementations they can easily gain interoperability with any of the other already connected IoT assets.
Users with limited IT literacy can take benefits of the provided semantic discovery and dynamic configuration features to automatically integrate standard IoT assets placed into range of VICINITY auto-discovery device.
VICINITY concept decentralism provides flexibility on creating well-defined business models for all stakeholders and releases the vendor locks present in the current IoT landscape. This will enable independent cross-domain value-added service providers to enter the existing and emerging IoT ecosystems.
Clear ambition of VICINITY concept is connecting the isolated islands; the current global IoT landscape is consisting of, into a large continent regardless on the vendors of the particular IoT assets.
VICINITY generates more types of social and environmental impact:
Environmental impact on energy saving and low carbon economy
According to the volume of controllable load in the EU is at least 60 GW. Shifting this load from peak times to other periods can reduce peak-generation needs in the EU by about 10%. This is comparable to the total installed generation capacity of two mid-size Member States or about one-third of all EU gas-fired power generation.
The below figure indicates the respective possible impact on total annual CO2 savings in the EU-27 + NO + CH countries for 2010 and a projection for 2025.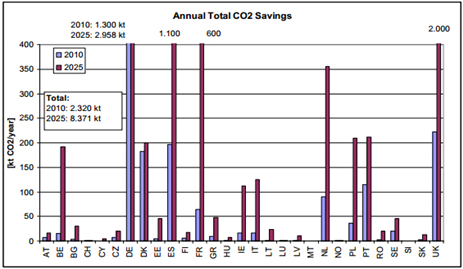 The question however is – how can such a huge potential be utilised? Demand Side Management (DSM) approaches are currently only feasible in large industrial companies. A roll-out of DSM measures also to the sector of consumer buildings, which are responsible for approximately one third of the overall energy consumption in industrialized countries, as well as DSM-enabling measures for Small and Medium Enterprises (SME) would be preferable, however, the setup is complex and costs are high.
Simply applying DSM measures on an end-user basis however has only limited effects – a limited quantity and variance of (consuming and producing) appliances restrict the usefulness of such a system. The answer to it is the clustering of end-users and this not only on a regional basis but in a cloud-based fashion. EupP management in the cloud as suggested by VICINITY is almost unrestricted in its size; it can grow easily over time and can handle a huge amount of participants. Such a system not only enables fine-grained energy management adjustments to a forecasted consumption/production scenario, it also allows near real-time provision of (positive and negative) regulating energy in case of unforeseen grid events.
Environmental impact on energy saving and low carbon economy
Life expectancy has risen sharply in the WHO European Region in the last few decades. The proportion of older people in the general population is increasing steadily in many European countries and is predicted to rise still further in the coming decades.
Responding the societal challenge related to population ageing it's evident that future healthcare ecosystems will raise the requirement on appropriate sensors and information systems assisting to the healthcare personnel or family of the appropriate persons subjects of healthcare. For this reason a wide variety IoT solutions are present (or will be emerging) on the market and suffering of lack of interoperability.
VICINITY will significantly contribute to meet this challenge with:
Making proprietary home-care solutions interoperable,
Connecting independent home-care service providers to the home care infrastructures of the patients they survey,
Enabling the use of deployed infrastructures (such as those for smart home and intelligent buildings) to connect home care sensors and devices.