VICINITY Architecture and Technical specification defined
VICINITY Architecture and Technical specification defined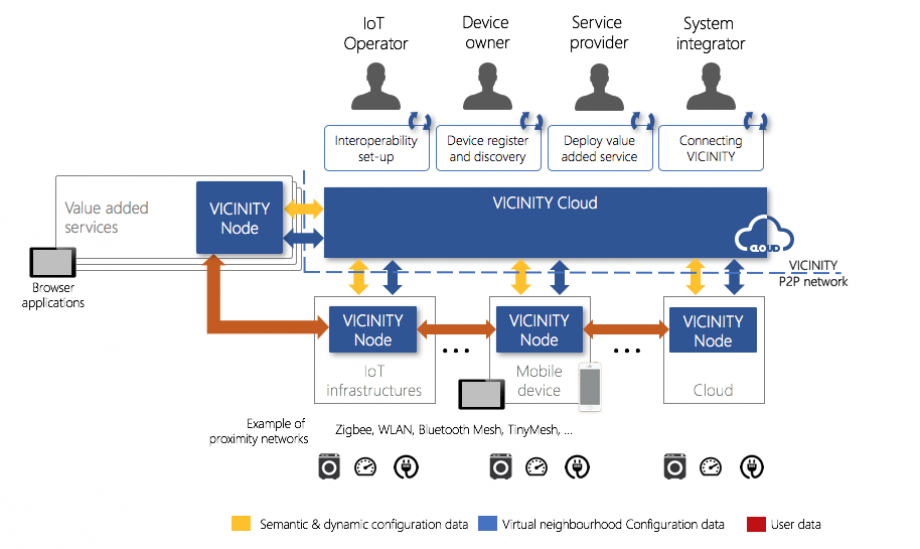 The H2020 project VICINITY aims at providing "Interoperability as a service" through VICINITY Cloud services to setup semantic interoperability including device discovery and peer-to-peer network of VICINITY Nodes to exchange context-aware user data in secure and privacy preserving manner. The VICINITY Cloud is the infrastructure that provides 'Interoperability as a Service', by providing services that enable:
Configuring the virtual neighbourhood of integrated infrastructures and value-added services (including setting-up the sharing access rules of any IoT objects) - like in social networks.
Semantic search (discovery) of IoT objects in the virtual neighbourhood.
Characterization of new IoT objects and generation of the necessary thing descriptions (following the Web of Things approach) based on the VICINITY ontologies.
Configuring the VICINITY Nodes based on IoT object description (such as data-integration and privacy services), sharing access rules (for accessing IoT objects in the peer-to-peer network), and configuring the communication with the integrated infrastructure or value-added services (such as encryption and data integrity features).
Auditing changes and events in the virtual neighbourhood (such as new integrated infrastructure request, change of sharing access rules, new device or service in virtual neighbourhood events) including user notification of such important events.
The VICINITY P2P Network provides a closed and secure common communication network for the VICINITY Nodes and the VICINITY Cloud to exchange user data between them. The communication is based on the share access rules defined in the VICINITY Cloud services, and transmission of control and configuration messages.
This includes encryption and privacy features, control communication channels within P2P network, configuration of communication between VICINITY Nodes and integration infrastructures between the VICINITY Nodes and the VICINITY Cloud.
The VICINITY Nodes are the set of software components providing different services to integrate IoT infrastructures (IoT gateways/ middleware, Mobile devices, Cloud service) and/or value added services into the VICINITY Cloud, such as:
Remote IoT object context-aware semantic discovery to look-up for the objects provided by other integrated infrastructures and/or value-added services;
User data forwarding within the P2P network according to the share access rules defined in VICINITY Cloud;
Encryption and data-integration services for forwarded user data to ensure secure transmission of the data within VICINITY P2P Network;
Configurable of auditing and logging of exchanged user data.