Pilot Things
Demand Response Energy infrastructure
General Details
According to MarketsANDMarkets analyst firm, the Demand and Response Management System market (DRMS) is estimated to worth 31 billion $ by 2020 at a fast Compound Annual Growth Rate (CAGR) of 31.5%.
The DRMS is the software platform that helps implementing a demand response program.
The major key drivers of this market are the imbalance between energy supply and demand and the mandatory green power production.
The most promising applications are for the commercial and industrial buildings. The conventional or manual demand response is the most used right now.
oneM2M is the global standards initiative that covers requirements, architecture, API specifications, security solutions and interoperability for IoT technologies. oneM2M was formed in 2012 and consists of eight of the world's preeminent standards development organizations (see www.oneM2M.org).
These SDO partners collaborate with industry consortium and over 200 members to produce and maintain globally applicable, access independent technical specifications for a common IoT service layer.
Our software Pilot Things is compliant with oneM2M worldwide standard since the origin thanks to a collaboration with the research laboratory LAAS-CNRS. oneM2M is based on a centralized architecture with interworking and semantic representation capabilities. oneM2M suits very well to integrate multiple buildings protocols.
VICINITY "interoperability as a service" is a novel federate approach to get different IoT domains to talk to each other to unleash possibilities. This approach suits very well for energy demand and response scenarios where producers and consumers must interact in a new distributed grid model.
Brief description of the project
Our project fits in the smart building and energy management use case. The main objective is to build an infrastructure for a facility management company to help them deliver energy management services in a Demand Response (DR) context.
DR involves reducing the amount of energy buildings draw from the grid during peak demand periods – either through management of operational equipment and processes, shifting production to nonpeak hours, or using other energy sources.
Building equipment management is facility management companies key business. This service is today invoiced in a flat price business model.
At the end, Pilot Things user interface gives information on historical consumption helping the service provider to calculate the gains and sell new services.
Infrastructure
The infrastructure is composed of an office building and a solar energy producer. The office building is equipped with smart plugs to get detailed energy consumption.
Pilot Things collects the consumption from the gateway connected plugs and thanks to Vicinity network gets the solar energy produced.
Pilot Things user interface gives detailed insights on building consumption and compare it to energy production.
The drawing here under sum up the architecture.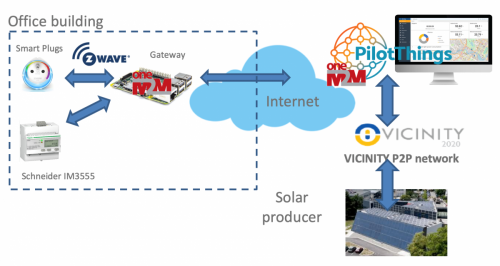 Benefits from VICINITY
Complement our Smart city offer for energy management
VICINITY technical federate architecture fits very well with energy demand and response scenario,
Easy way to connect energy eco system
Benefits to VICINITY

New interoperability with oneM2M
Detailed data on energy consumption
Extends VICINITY energy use case with energy marketplace concept opening the way to value add services (energy auction, consumption prediction…)