Pilea-Hortiatis (GR) – eHealth & Assisted Living

General Details
Caring for an aging population is one of the major challenges for future healthcare public system and beyond. An important step is fulfilling the need to move from institutional care to assisted living at home environment, in particular for elderly people living alone and people with long-term needs and chronic illness (such as people with hypertension, dementia, and obesity). Digitised, automated and predictive medical care services are expected to enable people to obtain a better quality and independent life. Health improvement based on public programs aimed at middle-aged persons could be enabled by VICINITY solution and demonstrated at the Municipal level. Electronic medical care services enable these people to obtain a better quality and independent life. In demo site in the municipality of Pilea-Hortiatis such services are expected to be enabled through VICINITY interoperability solution.
Brief Description of the Site
The Municipality of Pilea-Hortiatis is a member of the "National Inter-municipal Network Healthy City - Health Promotion (NINHC-HP)". The NINHC-HP is certificated (from June 2010) by the World Health Organization (WHO) as a National Range Cities Network following the criteria and methodology of WHO. Among the main objectives are:
Health Promotion
Prevention of Diseases
Screening of high risk population groups
Promoting integrated local policies and actions in the field of Public Health
The "Citizens Service Centre for Health" is a new municipal structure that aims at prevention, health promotion, mobilization and orientation in health facilities. The main concern is to inform the residents, regardless of health insurance capacity, of the preventive examinations for the following seven major diseases, which have proved that preventive intervention, is effective prevention of:
abdominal aortic aneurysm
colon cancer
breast cancer
prostate cancer
cervical cancer
cardiovascular disease
skin cancer (melanoma)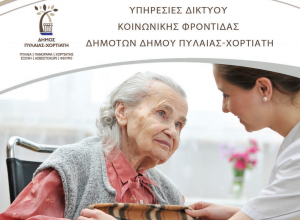 This pilot site at municipality of Pilea-Hortiatis will demonstrate how sensors, actuators and integrated communication devices installed at home can provide assisted living to elderly people and people with long-terms needs. This allows remote monitoring of end-users' health parameters, providing them with a direct means of communication with a 24-hours call centre with specialist staff in case assistance is needed. Furthermore, by utilizing sensors from the building and smart homes domain (such as motions sensors, door sensors, pressure mats etc.), more advanced added-value services can be implemented.                                                                                                                            
Another use case will target middle-aged people (e.g. citizens with problems such as obesity and hypertension) to use smart wearable sensors and IoT proximity sensors to track their everyday activities and promote a more healthy lifestyle. The municipality will be able to collect information and create "municipal-scale" social networking of urban citizens, tracking their fitness "achievements", awarding or further triggering them towards specific goals set, based on each individual's special needs. The whole scenario will be promoted and assisted by doctors (dieticians) in collaboration with the municipality health services, services that will further be leveraged through campaigns and organization of municipal-scale contexts.
Pilot facilities:
Citizens elderly homes
Municipality Sport Complex
Medical call centre
Use Cases
The two use cases of eHeatlh Pilot Case will provide provide assisted living to elderly people and people with long terms needs by providing them direct means of communication with a 24-hours call center with specialized staff and/or their relatives and a healthier lifestyle to Municipality citizens.
1. Assisted Living to elderly people
eHealth:
Objectives are:
Extension of the targeted end users, from elderly people requiring assisted living at home, to middle-aged municipal citizens that may need support to change their everyday way of living and habits to obtain a better quality and independent life, dealing with problems such as being overweight and hypertension all monitored by specialized staff through fitness awareness programs.
Facilitation the move from institutional health care towards preventive medicine.
Creating a social network of municipal citizens, allowing the collection of information (in an anonymised manner) that would allow the evaluation and monitoring of the citizens' health status. This would allow the Municipality to promote fitness awareness of the citizens, by organising competitions and municipal-scale events.
The solution comprises the following equipment:
A communication device, installed in-line with the user's regular telephone device, allowing automating dialling to the 24-hour call centre upon the user's request (through a remote wearable button) or when triggered by attached actuators.

A pressure monitoring device (able to measure systolic/diastolic pressure and heart rate levels) and a weight monitoring device (measuring weight, mass index, resting metabolism, visceral fat level, skeletal muscle, body aging) allowing collection of a series of important health parameters (for example for people with hypertension).


A wearable "panic button", the call centre to be contacted with a single tap at any time of day, so that the owner does not feel unsafe when being alone at home. It further allows phone calls to be answered from everywhere within the apartment, without the need to run to the phone device to answer risking an accident. In case of emergency, and if the person wearing the necklace falls down, the 24 hours support service is automatically alerted in order to promptly provide first aid (send an ambulance or inform a relative to help).
Building:
The use case detects the abnormal behaviour of elderly people living alone of senior citizen and trigger an alarm. In particular we will be utilizing information stemming from connected Smart Ovens and Smart Refrigerators to create usage profiles. This information will be combined with building sensors to provide a more enhanced abnormal detection system.
The use case combines information from IoT sensors from the building domain, such as simple occupancy/motion tracking sensors, pressure mats and smart appliances. Information collected in real time will allow tracking of end-user's activity at home, in order to create "typical" user profiles and, therefore, be able to detect abnormal conditions, in order to raise events (e.g. alerts/messages) when deviating from normal conditions. For example, when an abnormal sequence of events or lack of typical events is detected (e.g. end-user has not interacted with any device for a prolonged period) an alert could be automatically dispatched to the senior's/ relatives, based on severity of incident extracted.
Offered services are:
Storing of medical data respecting the GDPR regulations
Analysis on medical data regarding frequency and type of measurements, alerts on outliers etc.
Monitoring of elder's activity at home with building sensors, in order to be able to detect abnormal conditions and raise events when deviating from usual habits.
 Deployment of Devices in elderly people's houses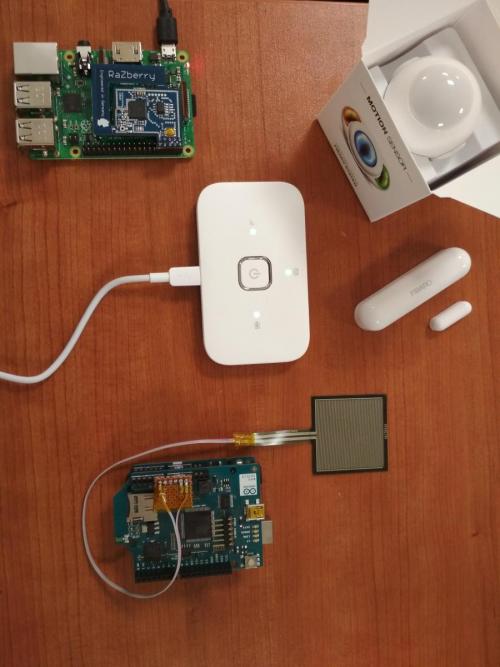 2. Health improvement for the middle-aged persons 
The Use Case aims to promote a healthier lifestyle to the middle-aged citizens of the municipality, though a fitness competition. The aim is to support citizens to change their everyday habits in order to obtain a better quality of life. Specialized staff (dietician) will monitor the middle-aged citizens' weight measurements as well as their exercise data on daily basis and examine their improvement. For this purpose, equipment such as wearable activity trackers (fitness trackers) and weight devices will be delivered to the citizens that participate in this use case, and beacons will be placed at the municipality's athletic facilities in order to monitor data concerning the participants' visits.
Moreover, citizens will take part in a municipal-scale competition ("urban marathon") and compete with other citizens on health improvement achievements (e.g. citizen A ranks at the top 10% of citizens, according to the miles he/she has walked this week). These means will be used in order to motivate citizens to participate even more to this health improvement use case. Citizens will be informed for the status of their activities by using a mobile application which will be also used in order to sign up for this urban marathon. 
User Interface of the middle-aged
Offered services are:
Storing of medical data respecting the GDPR regulations
An awarding, gamified point system according to the citizen's diet program, activity and visits to gym, called "Urban Marathon".
Aggregated analysis of citizens medical data giving an overview of the population's activity
Deployment on Pilea-Hortiatis Gyms