Martim Longo (PO) - Neighbourhood GRID ecosystem

General Details
Martim Longo in the Algarve region, Portugal, is the most populous urban centre in the municipality with over 1300 inhabitants, and was the chosen location for the pilot. Its rural setting makes it relevant for demonstration of complex systems in an environment where business would not be disrupted and offers more flexibility for the system experiments. The demo site is focused on transversal energy domain and municipal buildings management. Energy generating and energy consuming components could potentially form a municipal-scale smart-grid enabled by VICINITY. It aims to demonstrate value added services that could be enabled through the VICINITY framework based on renewable energy generation infrastructure and including: weather station, Solar Lab, and Municipal cluster of buildings.
The aim is to cross leverage available resources and systems and to create value through community-scale VICINITY enablement and promote sustainable energy in the Municipality as well as between the citizens. Renewable energy site operator is expected to benefit from predictive operations enablement, while municipal smart grid concept could be modelled and enabled by VICINITY solution. Enablement of smart appliances grid services, predictive maintenance services and energy efficiency goals within household, public building and a lab environment are planned.
Brief Description of the Site
The Municipal cluster of buildings is located in Martim Longo (Alcoutim) and is composed of an elementary school, a sport pavilion, an indoor swimming pool facility and a nursing home. All of the facilities are close to each other and they are used by the citizens from the Municipality. The variety of building functions has potential to impact considerably the load dynamics of the proposed IoT systems.
The elementary school is on two floors with several classrooms, meeting rooms, teachers' office, library, gym, changing rooms and toilets, kitchen and dining room. The school is currently attended by 107 students and it has thermal and electrical loads. The nursing home is a new building and currently is not being used. It is on one floor with several single and double dorms, office rooms, toilets, dining room and kitchen. It will be equipped and prepared to receive 37 elderly people on the upcoming year. Moreover, a residential development is under construction and the VICINITY framework could be demonstrated within the facilities.
The Solar Demonstration Platform operates 4 solar plants of 1 MW each, having common energy infrastructures, operation and maintenance systems, such as CCTV, fencing, weather monitoring stations, solar thermal convertor. Various use-cases at the Solar Demonstration Platform and the adjacent infrastructures of the Municipality of Alcoutim will demonstrate functionality that VICINITY solution aims to provide, facilitating interoperability of data sharing and resulting in cross-domain benefits. The Platform provides a range of services for renewable energy producers and technology companies, such as project development, infrastructure, operating services and technology commercialization.
Pilot facilities:
Solar Lab
Nursing Home
Sports Complex / Swimming pool
Elementary School Building
Water Pump Station
Elementary School and Sport Pavilion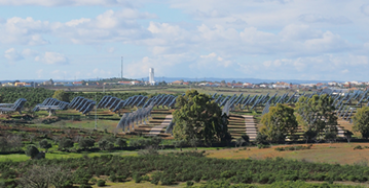 Solar Demonstrations Platform (CPV plant)
Use Cases
Energy:
The use case demonstrates the enhancement of NZEB located on SolarLab demonstration site including PV and solar thermal energy sources through deployment of sensors to derive data from the interior environment, energy generation and smart applicances allowing cross domain solutions. This energy ecosystem could support data exchange and flows from both the Generation and Demand sides. It must be managed and maintained at minimum operating cost and maximum efficiency levels. The objective is the demonstration of energy efficiency and environment quality on single building using data gathered from different domain in the neighbourhood.
Building:
The use case demonstrates the environment quality on three municipal buildings (Nursing home, Secondary School, Swimming Pool) with distributed energy sources with the deployment of sensors to measure air, humidity, temperature, light quality, CO2.
Modelling and planning of the Municipal Smart Grid as a potential tool to manage resources used by sports center, school and potentially the retirement home. In-building sensors would provide information for participation of building's assets in automated building management and demand management strategies practiced within a Smart Grid ecosystem. The objective is the demonstration of the indoor environment quality, energy efficiency, facility flexibility, user health on these buildings.