Interview with a Stakeholder Advisory Board (SAB) member
Interview with a Stakeholder Advisory Board (SAB) member
In the context of the VICINITY project, a Stakeholder Advisory Board (SAB) has been formed at the very start, supporting the project in order to facilitate the participation of related stakeholders.
The advisory group is consisted of independent experts, with very wide recognition in their respective fields, and with different backgrounds and areas of expertise, including needs/requirements of the market, technological trends and standards. Moreover, SAB will ensure the international impact of the project results, as well as the conformance of the project results with international socio-economic trends.
The experts participating in the SAB will perform annually a review of the quality and technical achievements of VICINITY and will provide the necessary feedback and inputs to the consortium. Similarly, selected deliverables will be checked by the most relevant SAB members before being submitted. The timing of each annual meeting will be linked to the achievement of important project milestones or other key moments within the project lifetime.
One of the SAB members in the Energy domain was interviewed in order to give an overview about his expertise and VICINITY goals.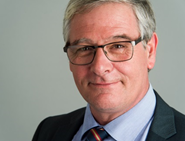 António Eduardo de Barros Ruano
University of Algarve
PhD in Electronic Engineering by the University of Wales, Member of the Portuguese Associated Laboratory for Energy, Transports and Aeronautics, extended R&D contribution on Computational Intelligence, Intelligent Control and WSN
How did you develop an interest in Wireless Sensor Networks? How long have you been working with this technology?
– For several years we have been working in Predictive Control of HVAC systems in Buildings. This technique demands that several variables are sampled in real time. For that purpose, we started using wired sensors, then moved to off-the-shelf wireless sensors and finally designed our own, self-powerered.
You are a member of the Portuguese Associated Laboratory for Energy, Transports and Aeronautics (LAETA) and as Director of Centro de Investigação Tecnológica do Algarve (CINTAL) , Could you provide us more information about these institutions?
– The mission of LAETA is to set-up a research and development network with engineering know-how in all fields contributing to transports and energy and aerospace that will promote partnerships with SME's, European consortiums, national and international entities involved in regulation and standardization and public and private institutions involved in R&D in order to transfer new technologies, to implement new engineering procedures of project, design, manufacturing and testing of products and to promote the dissemination of knowledge and the education and training of technicians and engineers to overcome existing lacks in education and to acquire new competences.
Please see https://www.idmec.ist.utl.pt/laeta/CINTAL
Centro de Investigação Tecnológica do Algarve, is a non profit private association, created in 1990, with the following main objectives:
R&D in the areas of science and technology
higher education and formation
services and contracting in relation with industry.
Please also see www.cintal.ualg.pt
What motivated you to join the VICINITY Stakeholder Advisory Board?
– Close contacts/projects with Enercoutim.
What is your area of interest in VICINITY?
– Intelligent Buildings and Smart Energy.
What is, in your opinion, the ultimate goal expected to be achieved with the help of the VICINITY solution?
– The goal of VICINITY, building and demonstrating a standards-based, device-independent IoT platform that will offer "Interoperability as a Service" is a need for promoting IoT in Europe.
Which challenges in your field of expertise can VICINITY address and how?
– My field of expertise is in intelligent control, with a relevance to system identification with computational intelligence based techniques. This means that in my area, we need to integrate data (maybe acquired in different locations), typically using different protocols and standards to create our models, and use them for different applications. The availability of VICINITY platform will surely solve some of our problems.
You are co-author of the papers "The IMBPC HVAC system: A complete MBPC solution for existing HVAC systems" and "An Intelligent Weather Station" What are the main findings and conclusions of these publications?
– The first paper details what we think is the first commercializable model predictive control (MPC) solution for HVAC control in buildings. The main finding is that the use of this approach demonstrated, in several real-time experiments, economic or energy savings of up to 50% while maintaining user thermal comfort.
– The second paper is relevant to the above area and to solar energy systems. The weather station is termed 'intelligent' since it provides, besides measurements, forecasts of weather variables (air temperature and relative humidity, global solar radiation) over a user-defined prediction horizon. It can be used for building thermal comfort, greenhouse environment control and solar energy forecast.